In Memoriam Katherine Wright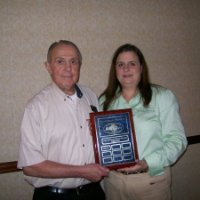 I just wanted to let everyone in our professional community know about the untimely death of our owner's (Joan and Joseph Maus) daughter Katherine. She passed away yesterday, February 24th. She was an integral part of the sales team in the Lancaster, PA office. She will be sorely missed. Katherine was the daughter of Joe and Joan, Mother to Kate, Wife to John, Sister to Donna and Trisha, Sister-in-Law to Dan, Aunt to Brady, Brock and Brett. Please keep her and her family in your prayers.
Graciously,
The Employees of Sensenich Propeller Service
Katherine M. (Maus) Wright
Katherine M. (Maus) Wright, 52, of Lancaster, died suddenly Wednesday, February 24, 2016 at her residence.
Born in Vero Beach, FL, she was the wife of John Wright of Lancaster, and the daughter of Joseph R. and Joan (Zelesky) Maus of South Carolina.
She was employed in the Marketing and Sales Department of Sensenich Propeller Services.
Katherine was a member of St. John Neumann Catholic Church, Lancaster.
She was a loving mother, wife, and daughter who was known for her kind, sweet, and generous nature.
In addition to her husband of 14 years and her parents, she is survived by her daughter, Katie Wright and her fiancé Joshua Stone of Lancaster; 2 sisters: Donna Maus of FL and Patricia Landis and her husband Dan of GA; father and mother-in-law Robert and Janet (Hecht) Wright of SC; and 3 nephews: Brady, Brock, and Brett.
A Mass of Christian Burial will be held at 10:30 AM on Tuesday, March 1, 2016 at St. John Neumann Catholic Church, 601 E. Delp Rd, Lancaster with the Rev. David Dannecker as Celebrant. Friends and family will be received at the church from 9 to 10:30 AM prior to the mass. Burial will be in Witness Park Cemetery, Lititz.
To place a condolence online, please visit http://www.snyderfuneralhome.com/obituary/katherine-m-maus-wright/